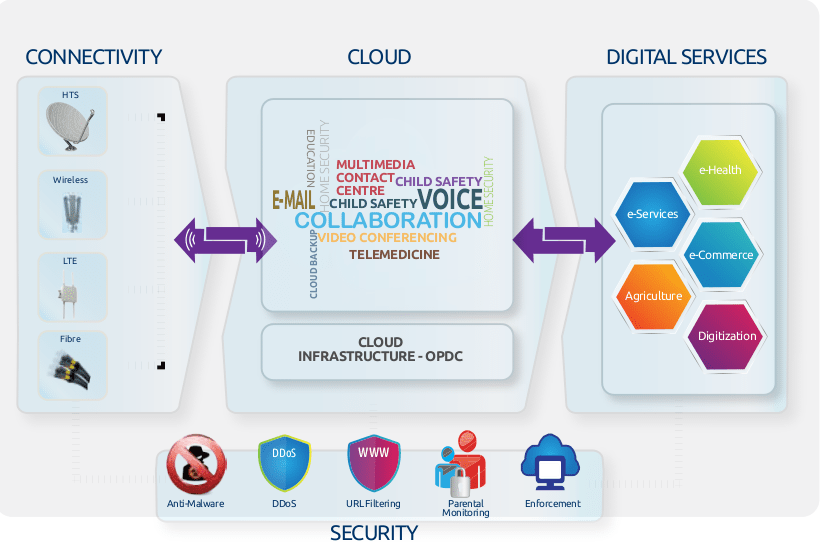 Ubora Systems and Solutions is headquartered in Kenya, founded by visionaries with 25+ years of experience in Africa's ICT Industry. We provide Integrated Solutions for ICT Infrastructure Software and SaaS Service offering.Our main focus on Partner Eco-System ensures that the entire organization is aligned to provide the same level of service and support regardless of where your solution is deployed.
From the onset of the relationship, we act as a consultant explaining the system integration process, listening to your needs and protecting your interest as we work together to handle all aspects of your final solution. Our team assists with the Platform design, System implementation, Performance and cost control, Last Mile support while providing a complete lifecycle management. With an extensive engineering team and a long history in the ICT industry in Africa we serve, we have learned lessons and developed best practices along the way that ensure efficiency and reduced costs.
We have relationships with leading technology providers to develop best of breed solutions that meet your specific needs.
Our Solution Range Covers the following Technology areas,
Connectivity
We offer High performance, reliable and affordable last mile connectivity, for both Service providers and last enterprise campus networks where our offering includes:
High throughput satellite broadband
Wireless Last Mile
LTE
Optical Fiber networks
Network Security
Our DPI based appliances offers a network-based web security and privacy services that are simple, economical and accessible to any device. Our offering includes protection for Anti-malware, Anti-phishing, Parental controls, URL filtering, and Blocking services. Our primary targets are Universities, Educational institutions, Government Networks and Service providers that want to protect their content, consumers and businesses from malicious online threats
Cloud Services
We provide Software as a Service (SaaS) solutions leveled to benefits of High Speed Connectivity and security solution. We offer Solutions in Education, Healthcare, Home security, Child safety, Home Automation, Media Delivery. We equally deliver various communication solutions like IPPBX, Contact center, Web collaboration and Email. It is a "pay as you go model".
Digital Services
Our Digital service offering include Digitization of hard copy documents or Biometrics which is basic step with any business automation Process. This is extended to Archive, data analytics, Smart Process Application, Robotic automation and full suite of Applications for E-Services, Healthcare, Education, Farming and Security.
In this phase, our visions and plans become reality. It involve the technical implementation in the execution of a project.To accomplish our mission, Ubora Systems and Solutions partners with Suppliers, distributors, agents, and installers in our project implementation plan. We monitor and evaluate our supplier to deliver quality products. After we have carefully planned our projects, the project manager will coordinate and direct project resources to meet the objectives of the project plan hence ensuring we produce the deliverables. In the implementation phase we keep the project plan on track with careful monitoring and control processes to ensure the final deliverable meets the acceptance criteria set by the customer.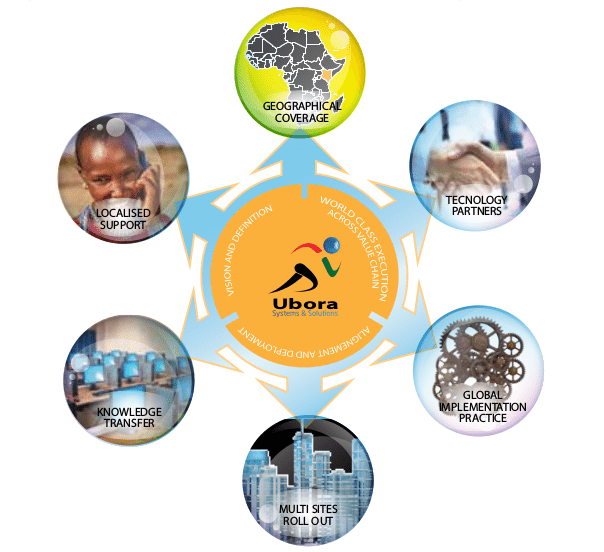 Knowledge Transfer Mentoring
Ubora focus on two transfer mechanisms
Training:
Our Project Implementation Training (PIT) provides project implementation and management teams with technical support and consult to implement projects. We ensure that we impart information and instructions to improve our partners' performance thus helping them attain a required level of knowledge and skills.We equally share knowledge to local communities by providing training to our clients, agents, distributors and installers.
Mentoring:
Our partners may leverage our mentorship program inorder to get insight about the industry trends and improving the local communities.
24/7 Network Operating Centre
We understand that there are many different aspects which underpin customer satisfaction in service delivery. Our 24/7 support center enables our customers to serve better.We keep track of our customers ensuring they get a satisfactory experience. We offer other potentially relevant services to extend the customer relationship.